OpenSpot Theatre may have a new name, but we are the same great theatre company you have come to know and love. Want to know more about what we do? Take a gander at these short clips below to help learn what our classes, performances, and day-to-day routine looks like.
Hint: We emphasize empowerment, independence, & fun!
WILX News 10 – 10th Anniversary Celebration
Open Spot Theatre celebrates 10 years of providing theatre for all
"As we wrap up Autism Acceptance Month, there is one theater program that is going above an beyond to make sure that there is a spot on stage for people of all ability levels." – April 2022
Kingsley Middle School Program Promo
Promo video for our first ever OpenSpot Theatre program in Northern Michigan, at Kingsley Middle School in Traverse City. – April 2022
Lansing State Journal – 10th Anniversary Celebration
2 educators saw a lack of sensory-friendly theaters in Michigan. So they started their own.
"A theater company and school focused on creating space for performers with disabilities returned to in-person sessions this week, celebrating its 10th year." – Krystal Nurse, March 2022
Larry Wallace – Fox 47 News Story
"WATCH: Back in 2012, friends Annie Klark and Katie Mann said they had one goal when they first opened the OpenSpot Theatre in Detroit. That goal was to teach people the art of theater in an inclusive environment." – September 2021
OpenSpot Theatre / MSU Dance OFF!
Showcase from our Winter 2021 partnership with Michigan State University. – March 2021
Mitch Albom & Live in the D Interviews
OpenSpot Theatre owners Katie & Annie discuss name change, virtual classes, and branching out to bring theatre for all to other states! – January 2021
https://www.clickondetroit.com/live-in-the-d/2021/01/15/an-open-spot-for-all-to-express-themselves-in-the-heart-of-the-d/
MSU Virtual Showcase
Our Michigan State University Program students performing the play "Lonely" via Zoom! – June 2020
DSG Virtual Showcase
We may be stuck at home but the show must go on! Our DSG students show off all their skills in this wonderfully beautiful and heartwarming virtual showcase. – May 2020
MSU Talent Show 2020 – We've Got Talent, Baby!
Our Michigan State University talent show was cancelled. But only in the traditional sense! Our wonderfully talented students showcased their skills from home! Don't miss this chance to see some true talent shine! – March 2020
The Princess & the Dance Crew – A 4th Wall Theatre Film
We spent another wonderful semester partnered with MSU theatre students who in turn are partnered with our actors. In 8 weeks we made a hilarious, wonderful and applause-worthy film. Beyond the screen it is the friendships formed and memories made that mean so much to all involved. – November 2019
Hi Rock! Theatre Students Love the Legend
Our student, Emma, loves Dwayne Johnson. We're on a mission to get these two together! – November 2019 
The Springtime Express – A 4th Wall Theatre Film
Be prepared to say "Awww" as you watch our wonderful actors of all abilities perform. – May 2019
Flash Mob at the Detroit Beer Company
In August, our annual summer camp for the Detroit Opera House surprised patrons at the Detroit Beer Company. We danced in the streets! – August 2018
TheFourthWall – A Student's Perspective
One of our student's created this great piece on 4th Wall Theatre Company. Check it out! – February 2018
4th Wall Presenting on PBS's Detroit Performs
4th Wall Theatre Company provides an outlet for an exceptional group of performing arts students. Episode 606/Segment 1. – July 2017
"These kid actors with [developmental disabilities] are getting standing ovations." Full article can be found here. – March 2017

"Michigan theater company gives kids with disabilities a chance to shine on stage." Co-Founders Katie & Annie discuss 4th Wall. Full article and audio can be found here. – February 2017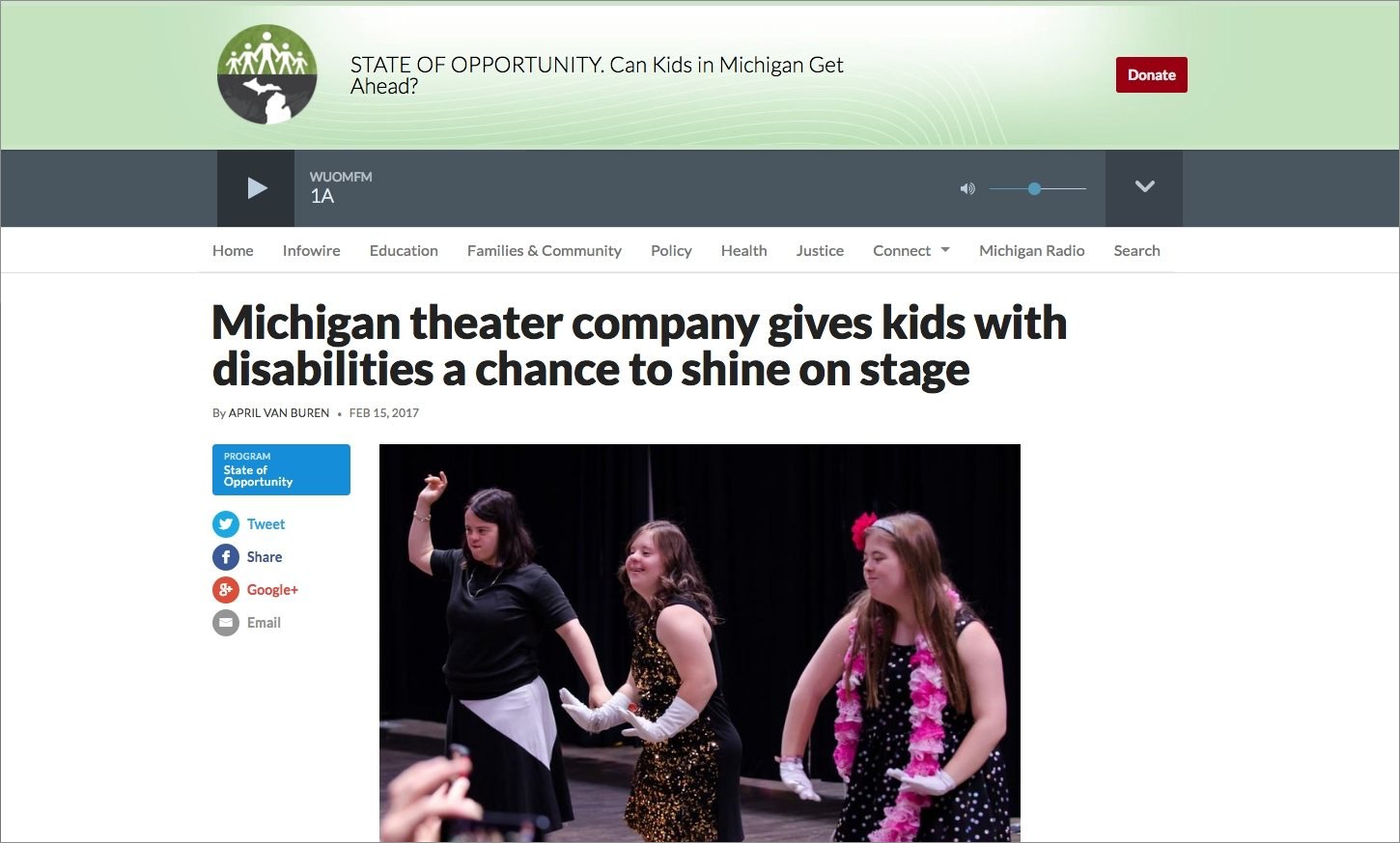 4th Wall Presenting at TEDxDetroit 2016
Co-founders Katie & Annie spoke at TEDxDetroit followed with a performance by the talented troupe from the Down Syndrome Guild. – October 2016
Lenawee Local News
Lenawee Intermediate School District gives a great two minute inside look to the average 4th Wall rehearsal. – May 2016
Mitch Albom Interview
Award winning reporter and writer, Mitch Albom, discovers how co-founders, Annie and Katie, started their company back in 2012. – October 2015
"Live in the D" Channel 4 Interview
This interview aired after the Mitch Albom piece allowing Chuck Gaidica and Tati Amare to explore the details of the company. – October 2015
Unlimited Potential: Believe It!
This video was made specifically for an event with the Down Syndrome Guild. It catalogs how the DSG and 4th Wall have each helped their group of students reach new heights. It's a tear-jerker! – October 2015
Fox 2 Detroit News Piece
Reporter Lee Thomas takes us behind the 4th wall to learn what happens during a 4th Wall Theatre rehearsal. – August 2014
What Does a 4th Wall Class Look Like?
In four minutes, learn what happens at every 4th Wall class and the positive impact it has on our students. – February 2014
Celebrate Michigan
We were honored to be interviewed on Celebrate Michigan, a local television show in Wayne County. Our students even got to perform! – March 2013